I am now about to begin the Blind Tasting Challenge (courtesy of Bagged Wine) portion of the the very first North American Wine Bloggers Conference here in 2008 at the Hotel Flamingo! 
Keep in mind all of this is live and (pretty much) not edited!!
It's single-elimination and I'm probably out pretty quckly, heh.  It gets progressively harder though so maybe there's a chance!
Round 1: Two whites, decide whether they are Pinot Gris, Chard, Viognier, Sauv Blanc, and Gewürtz. And I say it's 1. Viognier.  2. Gewürtz.
Argh!  I got #2 wrong, it was Pinot Gris (and I was wavering between the two!!) for #2, but I got 1 right!  Apparently, the rules are changed to only 1 rigth answer needed to advance, so onto Round 2.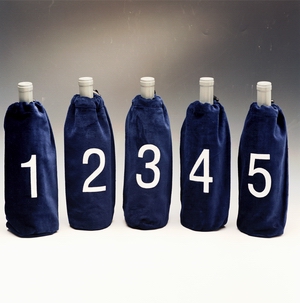 Round 2:Â  Match both wines to 2/3 of the tasting descriptions on to listed to the right. Descriptions come from the bottle and/or wine website. #1: Descr. A. #2 Descr. C.
Wow.  I got rocked on this one…Wine 1 was Description C.  Wine 2 was A.  I'm totally out on this one.  Oh well, it was fun! 🙂
Next up on the agenda…a self-paced New Zealand wine tasting session here at the Hotel Flamingo.