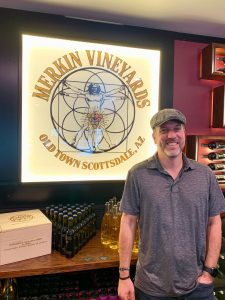 Happy New Year, #Vinopanion's! I, ahem, recognize that we are already in our 2nd month of this new decade but hey, I've been busy! 😛  The holidays were fantastic, starting with an early Christmas with my fam, then we headed out with Piper Roja and drove 13 hrs to my in-laws, outside of Surprise.  It was another great ~week of visiting them.  Piper, Maya (her fur cousin) and all of us again enjoyed the snowbird AZ life and in particular, doing some AZ #wine tasting! 
I've followed Maynard James Keenan's wine projects for many years now, but had yet had the chance to actually visit one of his properties and taste the juice.  He recently opened a fantastic tasting room in old town Scottsdale, where we tasted a great range of wines from the flagship Caduceus Cellars, Merkin Vineyards (tasting room namesake) and even his canned Puscifer rosé.  Highly recommended, plus their small bites are delicious, as well as the knowledgeable and friendly staff. Further wine reviews, forthcoming in a future post!
The other big wine news i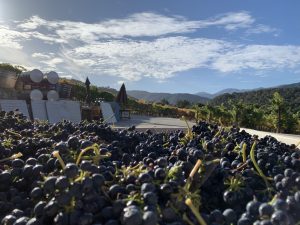 n my life has been the completion of my second harvest in 2019! I had the great luck and pleasure to have another paid sabbatical from work, so what do I do…?  *Pay* to work even harder! 😂I had another phenomenal learning experience however, contrasting my Man Falls in the Vines experience at Chimney Rock Winery in 2011, working at 3 tiny wineries (overall production <5000 cases combined) in the Carmel Valley AVA, one of the Lady and my all time fav regions. I lived in an sweet AirBnB hosted by Jason, up on the hill in Monterey, walking distance from 17 Mile Drive.
I had the great fortune to have a hand in everything: vineyard work & fruit sampling, cellar work with the punchdowns (all open-top fermentations), crushing/pressing/ topping/ barreling down, coopering and even a little tasting room work.  It was an incredible experience…I felt like I was in the exact place, doing the exact thing that I should be doing at that moment in my life. I also started it off with what else, but another awesome triathlon at the Santa Cruz Triathlon, with my bro in-law at my side for support (see the photo above, for the type of weather we enjoyed during race weekend).  Check out my Insta to see photos from those #wine adventures in Carmel Valley.
2016 Croze Napa Valley Cabernet Sauvignon
.5
C: Dark ruby/opaque center, w/very dark ruby edges. 
N: Even w/only 3yrs of age on this wine, the nose is still beguiling. Dark black currants, w/slight anise and some river rock here as well, this is a beautiful & deep nose. 
P: Fantastic here, all of that dark fruit, mixed w/bright red fruit lurking & the great acidity, this mix of savory stone/ flint minerality, with deep depths of black and red fruit, this is a masterpiece. Beautiful mouthfeel/integrating tannin & oak. #QPRWK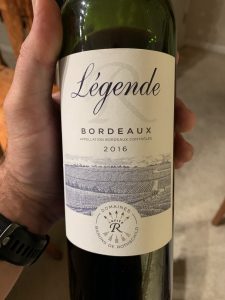 2016 Barons de Rothschild (Lafite) Légende Bordeaux Rouge
.5
C: Medium garnet in color, with transparent ruby edges.
N: Quite good for this daily drinker level of BDX. Good red fruit showing through, darker currant underneath. Integrated oak and some wet earth round out in this fresh nose.
P: Also good here, definitely a bargain for quality at this price. Medium to full, nicely smooth mouthfeel, with medium fine tannin. Red fruit and earth out to the nicely fresh finish, with good acidity. #QPRWK
NV Rebel Coast California Panda Pink Sparkling Wine
(Tasted 02/10/13)
C: Very coral pink, with large coarse bubbles. 
N: Super cherry soda pop here. 
P: Very sweet, tastes like cherry candy or cherry soda, with a cloying, synthetic candy finish. Not good.
.5
(Tasted 12/20/15)
C: Dark ruby core, w/some violet highlights; medium ruby on the edges.
N: Deep cassis, anise, dark toast, & black cherry here, w/some brighter red fruit just starting to poke through, along w/some rosemary.
P: Quite good, w/big & round smoothness, but still some fine grip of tannin. Good acidity is also present, making mix of mainly black, & red, ripe, dark fruit balanced, along w/toast out into finish. Savory herbs are barely present, but peeking through from the future.
(Tasted 12/20/15)
C: Deep golden here, with good viscosity.
N: Tons of dried citrus and pith here on the nose, then some lighter vanilla notes, with marzipan.
P: Medium to full-bodied, this has good sweetness with balanced acidity, and more citrus in the overall flavor palate, than creme brûlée or marzipan: a fruitier style of Tokaji.
(Tasted 12/20/15)
C: Dark violet and ruby here, with dark ruby edges.
N: Dried red and black plum, with black cherry liqueur, and some sweet toast.
P: Full, with tons of those sweet, plummy fruit flavors from the nose, this has lower acidity to compete with the fruit, and light tannin, with a somewhat smooth mouthfeel.