By now, all of us around the world are very aware of the devastation that continues to unfold in the nation of Haiti from the earthquake of January 12, 2010.  The resulting aftermath and aftershocks have continued to pummel the small island nation and it requires every increasing levels of aid and resources.  It is with these very concerns that have prompted the creation of an unprecedented, global online charity wine auction to directly support the recovery efforts in Haiti.
One of the online magazines for which I write, Palate Press and the charity wine blog Brother Can You Spare a Bottle? have teamed up to found and lead this online charity wine auction, with all of the proceeds going to the American Red Cross.  As the word has spread about this auction, the efforts have quickly gone global with the Australian wine social network Booze Monkey joining the efforts and many other wine blogs helping and spreading the word.
01/24/10 Update: Wine For Haiti has been featured in the San Francisco Examiner!
01/28/10 Update: The movement keeps picking up, with over $60K in wine already donated! Many more news outlets have picked up the story, including Decanter, The New York Times, Wine Library TV and Voice of America News, wow!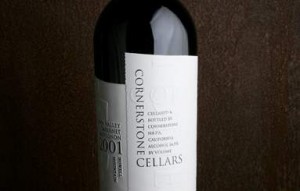 Just within the last week, an incredible array of wines have already been donated by many kind and generous vintners, all listed below as of the publication of this article.  Please consider donating a bottle from your own cellar or check out the listings below to make a bid and add to your own cellar, confident in the knowledge that you're also helping plenty of people in that are recovering from a devastating national tragedy.  The list is being updated multiple times a day so check back often.  Cheers!
Wine Lots for Auction at Palate Press:
Lot 1 – Cornerstone Cellars 6.0L
Lot 2- Rodney Strong Rockaway 6.0L
Lot 3 – Twisted Oak "The Spaniard" complete vertical SOLD
Wine for Haiti Lot 4 – Shafer Vineyards Hillside Select 3.0L SOLD
Wine for Haiti Lot 5 – Sara Nelson Design Fine-Art Print
Wine Lot 6 – Five Wine Books from UC Press
Wine for Haiti Lot 7 – Jancis Robinson Purple Pages SOLD
Wine for Haiti Lot 8 – Jancis Robinson Purple Pages HOT LOT
Wine for Haiti Lot 9 – Jancis Robinson Purple Pages
Wine for Haiti Lot 10 – Jancis Robinson Purple Pages
Wine for Haiti Lot 11 – Jancis Robinson Purple Pages
Wine for Haiti Lot 12 – Hospice du Rhône
Wine for Haiti Lot 13 – 1.5L Radio-Coteau Savoy HOT LOT
Wine for Haiti Lot 14 – 1.5L 2005 Araujo Estate Cabernet
Lot 15 – 3 Bottles Miller Wine Works Grenache
Wine for Haiti Lot 16 – The Uncorked Cellar
Lot 17 – 3.0L Quintessa 2006 plus Tour
Lot 18 – Tres Bonnes Annees Vertical
Lot 19 – A Charming Older Couple
Lot 20 – Rocca Family Vineyards Wine and Vacation
Lot 21 – WineBanq Cellar Software HOT LOT
Lot 22 – WineBanq Cellar Software
Lot 23 – WineBanq Cellar Software
Lot 24 – 3.0Signaterra Binziger Three Blocks
Lot 25 – 3.0L Faust Cabernet Sauvignon